Reservations
(415) 346-2880
Welcome

The Hotel Drisco is Now Open

We are delighted to announce our reopening on October 1, and in anticipation of welcoming you back, we're working diligently behind-the-scenes to prepare the hotel for you. Because your safety, comfort and peace-of-mind are our most important considerations, we'll be doing some things differently.

Some things you'll notice:

You may notice a few operational adjustments we've made for a healthy stay.
Front Desk reorganization to facilitate physical distancing.
Housekeeping as usual, or by request—your choice.
Unlike most hotels, we are not removing any amenities from our guestrooms, except common-use magazines and books.
Our evening reception will feature a hosted wine bar as well as individually-plated portions of hors d'oeuvres. Trays will be available so that you may easily take your selections back to your guestroom.
We will reopen our Dining Room as soon as local ordinance allows. Until that time, all of the items formerly available on our extensive breakfast buffet will be available for delivery to your guestroom, with expanded hours from 6am to 11am.
Per San Francisco ordinance, masks are required in all locations in the hotel, except in the privacy of your guestroom. Masks may not have vents, and must cover both the nose and mouth.
But most things you'll never see:
Many of our new initiatives takes place behind-the-scenes by our caring team. Our Wellbeing & Safety Commitment ensures the utmost hygiene and cleanliness for everyone who walks through our doors.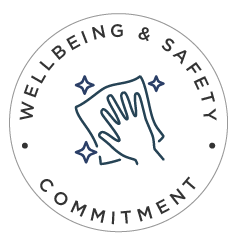 Advanced cleaning techniques using state-of-the-art equipment, including electrostatic sprayers.
HEPA/MERV filtration integrated into our air circulation systems and our cleaning appliances.
Rigorous safety and hygiene protocols for our associates.
Management team constantly evaluating and enhancing policies and procedures based on the latest developments.


We know that the Hotel Drisco has always been an oasis for you, and we are so excited to welcome you back. As always, we will be delighted to see you, and it may be difficult to tell, but rest assured, we'll be smiling behind our face masks!